Salah satu web server untuk windows bundle yang lumayan simple stabil dan portable.
Sangat priorotas pada portable, dan flexible dalam konfigurasi.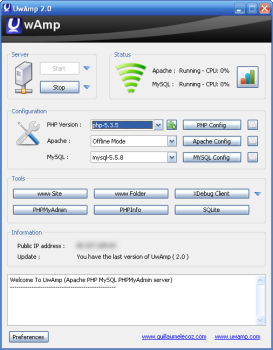 deskripsi:
Without installation
: UwAmp is available as a Zip archive, just unpack it and you can run the wamp server. UwAmp doesn't install files in the system to keep it clean.
Easy interface
: UwAmp is provided with a management interface that lets you start or stop the server with one click.
Multi PHP Version
: Change PHP version in one click to test compatibility and download new PHP version directly from php.net repository.
CPU Monitoring
: Real time Apache and MySQL process CPU monitoring.
U3 Mode
: Can be run from a USB stick.
Download
http://www.uwamp.com/